The 1st Village in Italy dedicated to the world of Bicycles… is here!
A UNIQUE PROJECT, THE FIRST BICYCLE THEME PARK
FOR TODAY AND TOMORROW CYCLISTS
BRN Village is located in Forlimpopoli on an area that has been abandoned for almost 20 years.
This area has been completely redeveloped and will host the new BRN Bike Parts' operational headquarter on the one side, on other a large park-village dedicated to bicycles and cyclists, open to public and healthy lifestyles.
Two distinct but complementary souls, which celebrate the great love for the bicycle and make this the 1st Village in Italy entirely dedicated to the cycling world.
A sustainable village also from an energy point of view: the entire energy requirement of the park and the production area is in fact covered by a 200KW photovoltaic system, which generates a volume of avoided CO2 emissions into the atmosphere higher than 87 tons per year.
THE PARK
A green area obtained by redeveloping a former industrial area for over 20 years abandoned to an uncertain destination, now given back to the community.
THE TRACKS
6 Tracks for today's and tomorrow's bikers, ranging from road safety education for the little ones, to Pumptracks and Dirt ramps, in a truly unique context.
THE CYCLIST SQUARE
A meeting place dedicated to those who pedal, with alkaline water fountains, an automatic bike wash, an e-bike charging station and a first aid workshop.
Read More
BIKE CAFÉ
A space of over 560 m2 dedicated to relaxation and good food, where you can taste delicious dishes of the local gastronomy, but also a quick bite before getting back on the saddle.
BRN Village
Via G. Amendola 22,
47034 Forlimpopoli (FC)
ITALY
THE PARK
A green area of over 50.000 m² where more than 1.000 new trees have been planted, a cycle-pedestrian path of almost 2 linear km that connects the park to the
other cycle paths coming from the city centre.
The company garden, within which
there are 6 tracks dedicated to today's and tomorrow's cyclists on a total of 10,000 m2:
a MTB track, an educational track, a mini-pump ring, a dirt jumps area and a large Pump
area which – with its 342 linear meters and a total development of 3,200 m2 – represents
the largest Pump track Area in Italy.
THE TRACKS
6 Tracks, over 3 linear KM of routes, from road education to evolutions without limits
The BRN Village hosts 6 different cycling tracks, dedicated to today's and tomorrow's cyclists: on the one hand, in fact, the educational track in rubber surface designed for civic and road education which will be available to all organizations and schools in the area who will also be able to make use of a Classroom in which to deal with the theoretical aspects of riding a bike on the road, on the other 2 Pump Tracks – technical routes for Mountain Bikes and Freestyle – for a total of 342 linear meters and an overall development of 3,200 m2 which make this facility the largest Pumptrack Area in Italy.
Alongside them, the BRN Village will host a 4th modular ring track of over 45 meters, where even the little ones can have fun and become familiar with the world of pumptracks, a ramp for dirt jumps – acrobatic cycling discipline similar to the BMX world – and a 6th track dedicated to the XC/MTB world where it will be possible to carry out tests and off-road rides.
THE BIKE CAFÉ
A place for toasting the love for bikes, where you can savor the taste of pedaling Romagna.
The BRN Bike Café is located a few steps from the entrance to the Village with the aim of welcoming visitors in a comfortable and dynamic space. A structure of 560 m2 with 100 indoor and 100 outdoor seats, which will celebrate the principles and the values ​​of the Village: sustainable mobility, physical activity, entertainment, but also and above all a correct and healthy diet. For this reason, only health and sports foods and drinks will be available at the BRN Bike Café counter, 100% organic and linked to the territory, in which the protagonists will be fruit and vegetable extracts and a careful selection of breakfast products and handcrafted snacks made with rigorously organic ancient grains. A modular environment in which there will also be a Reading corner, with publications, manuals and guides related to cycling tourism, the local area and a healthy and conscious lifestyle, a area dedicated to sports supplements and health foods produced by BuonFood, the company branch of BRN active in the Sport & Health Food and a Teaching Hall in which local schools will be able to integrate and prepare the experiences of pupils on the road safety education track.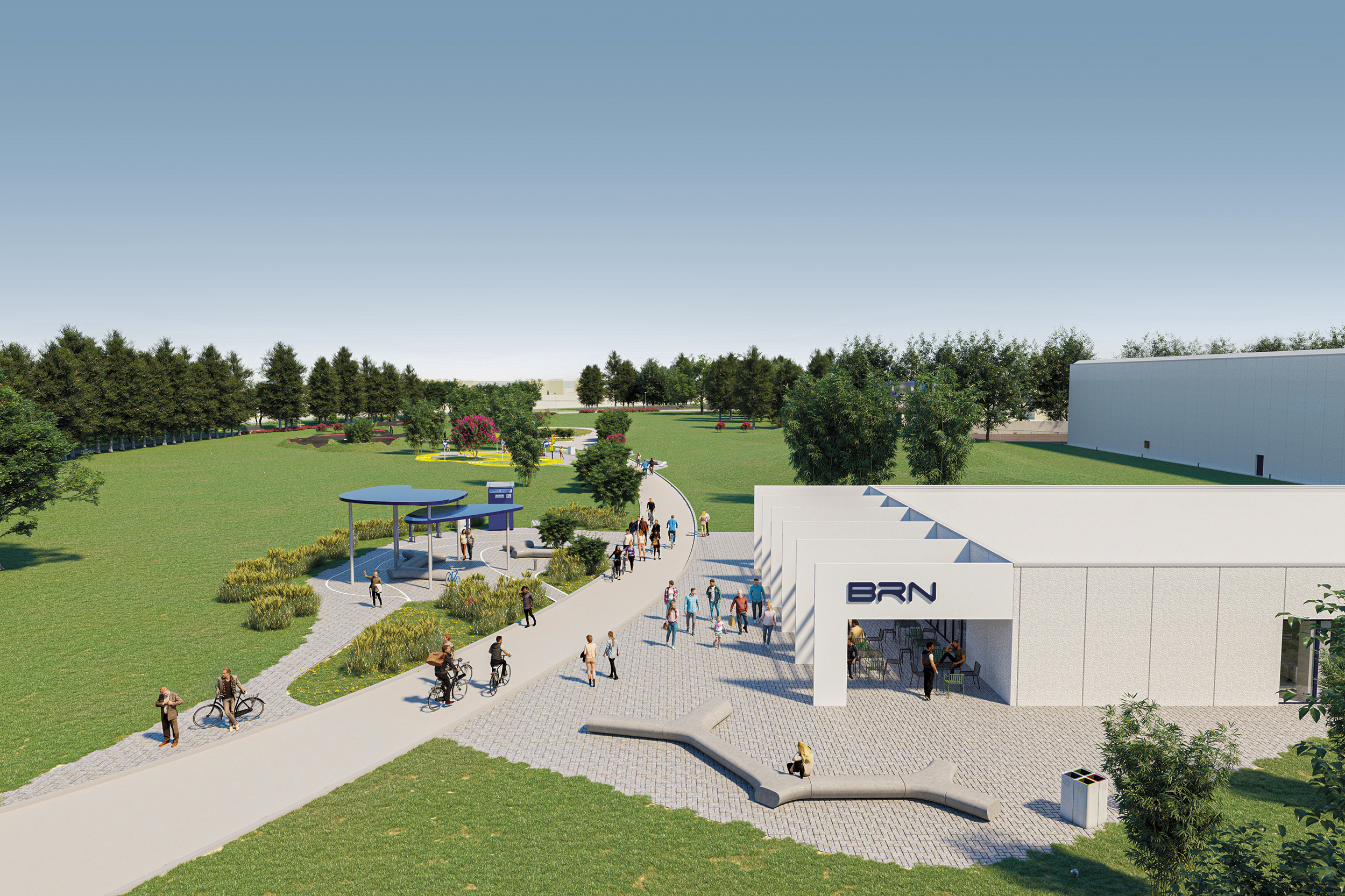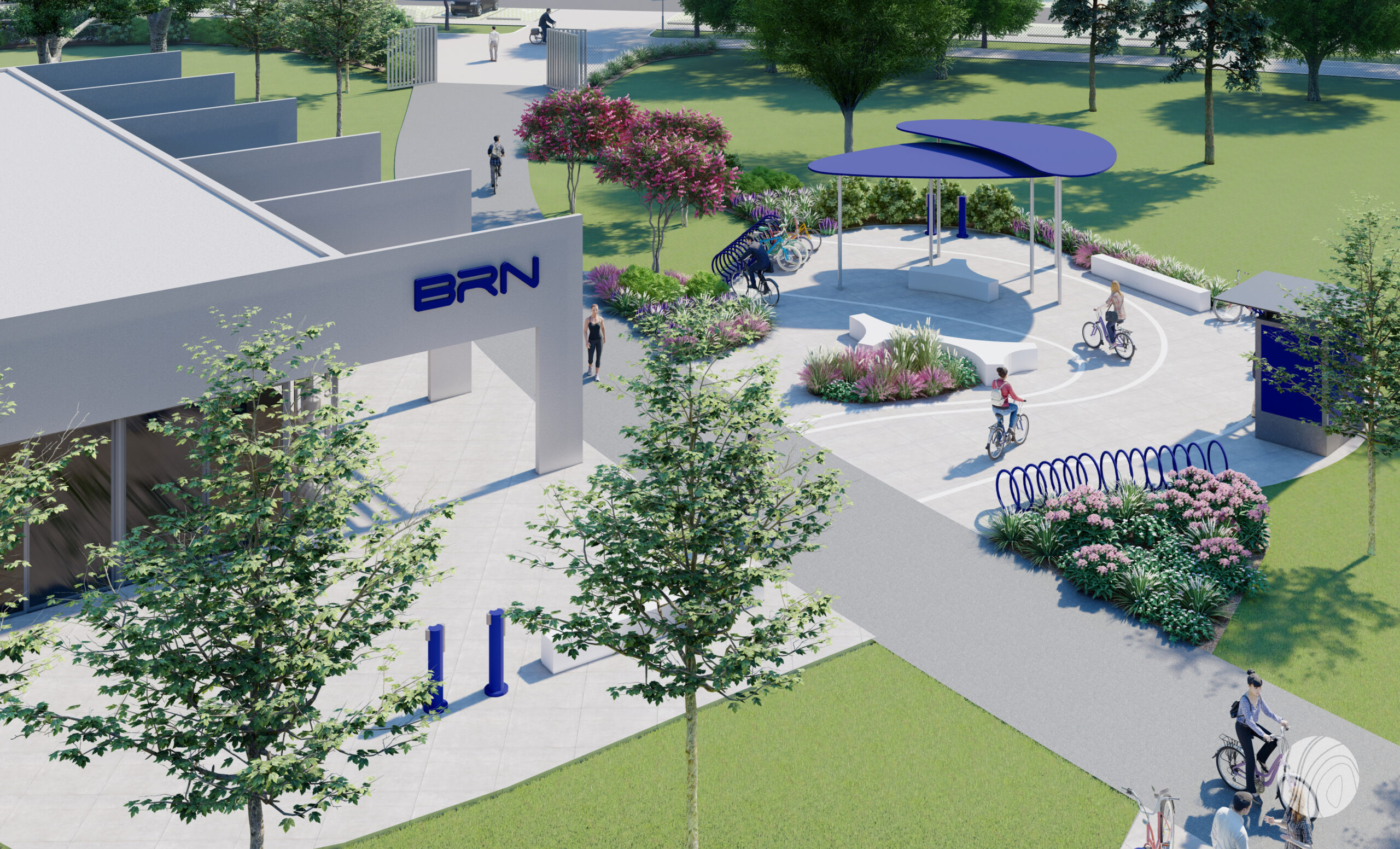 THE CYCLIST SQUARE
Friends, caregiveness and adventure. All that a cyclist needs before and after the performance.
in the heart of the park there is the "Piazza del Ciclista", a partially covered area in which 3 different bike stations are located, equipped with the main tools and equipment for bike care and repair, combined with 9 universal charging points for E-Bike batteries. Another important attraction in Piazza del Ciclista is the "functional water house", from which water dedicated to improving cyclists' hydration and performance will be dispensed.
Download the BRN VILLAGE APP to stay updated on Events, Courses and Initiatives!
Compatible with iOS and Android